Chesterfield Wedding Photographer
For a wedding photographer, days don't get much better than this one! This fantastic wedding took place in and around Chesterfield in Derbyshire. A beautiful wedding ceremony at Saint Bartholomew's Church in Old Whittington just north of Chesterfield was followed by a wedding reception at the magnificent Ringwood Hall Hotel located in the village of Brimington to the east of Chesterfield.
The image above was captured using a Nikon D4s and the 70-200mm Nikkor VRII. Both of these have now been upgraded and replaced by newer models, such is the need to keep up with the latest and greatest in terms of photographic equipment. Using the f/2.8 aperture and 200mm focal length available from this wonderful lens helps throw the background out of focus and create some super bokeh. The newer version of the lens I currently own is even better and has the added advantage of increased sharpness right across the image frame.
Chesterfield Wedding Photography
There are some wonderful towns and villages around our home city of Sheffield, the closest one to the south is Chesterfield. We took the image below at St. Bartholomew's church in Old Whittington near to Chesterfield.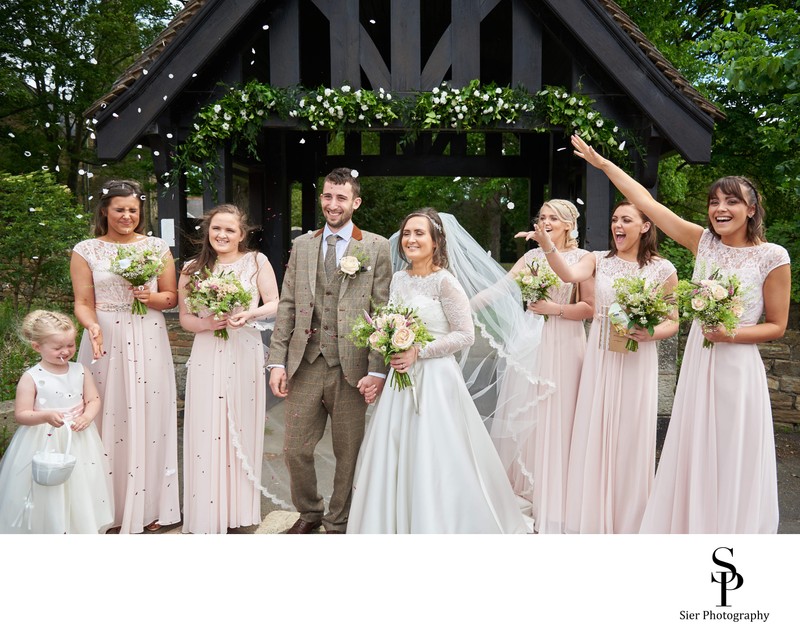 Confetti at a Derbyshire Church Wedding
So nice to see some wonderful sunny weather for the wedding of this amazing and loving couple. We captured many stunning images in the summer sun for the newlyweds of which this is just one in the beautiful gardens at this sumptuous country hotel for our special couple on their wedding day. This is the third Wedding we have been lucky enough to photograph here and I really hope to go to many, many more as each reveals a little more of the character of this historic hall in North East Derbyshire.
Ringwood Hall Chesterfield Wedding Photographer
Our bride and groom married at St. Bartholomew's Church in Old Whittington earlier in the day with the Wedding Reception at Ringwood Hall. Some wonderful and very funny speeches following the wedding breakfast, some spectacular and amazing dancing, incredible and unbelievably delicious food, and perfect service from the staff helped make the day run smoothly for the happy couple and their guests. It would be difficult to imagine a more perfect wedding day for a couple and what a magnificent start to married life. If you like the images from this Ringwood Hall Hotel wedding, then we created a wedding album which covers the day from start to finish!
Ringwood Hall Hotel
Ringwood Road, Brimington, Chesterfield, S43 1DQ.

Telephone: 01246 280077

Fax: 01246 472241

Main Reception email: reception@ringwoodhallhotel.com

Their main website can be found at: https://ringwoodhallhotel.com

Their dedicated weddings page is at : https://ringwoodhallhotel.com/weddings

Keywords: bride & groom portrait (219), bride and groom together (330), Chesterfield (78), Ringwood Hall Hotel (54).

1/160; f/2.8; ISO 110; 200.0 mm.