Cressbrook Hall Wedding Reception in the Orangery
The magnificent orangery at Cressbrook Hall laid out ready for the wedding breakfast and reception at this superb and secluded Derbyshire wedding venue. This has to be one of the most uniquely situated wedding venues in the country tucked away well off the beaten track and high up on the hillside overlooking the River Wye down in Monsal Dale.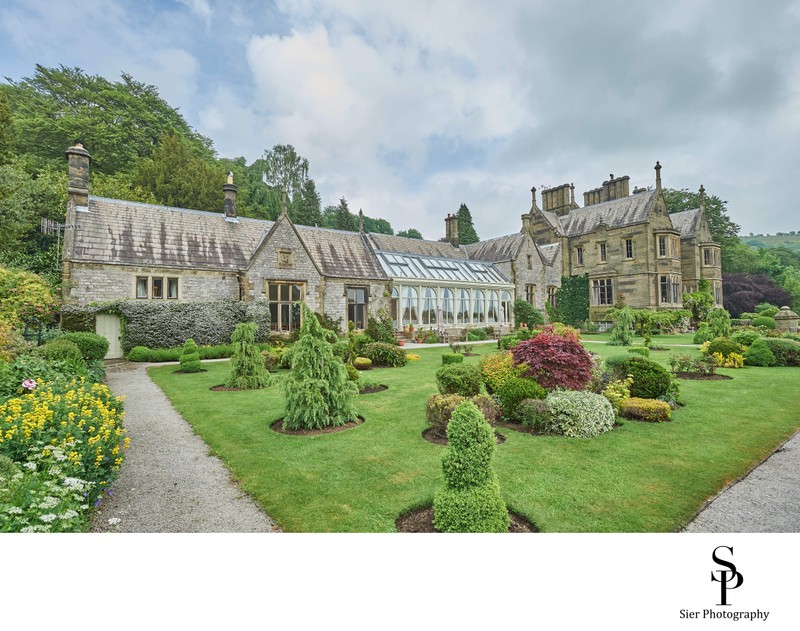 Cressbrook Hall in Derbyshire
Cressbrook Hall is a simply stunning wedding venue and has some amazing gardens. It is situated in such amazing surroundings it takes some seeing to be believed.
Cressbrook Hall Wedding Photography
This was our first visit to Cressbrook Hall and for anyone seeking this venue out make sure you consult a map before setting off. It is not that it is impossible to find but it just has such an unassuming entrance for such a grand hall that it is very easy to miss it. But when you do arrive what a treat awaits you! This is an unbelievably beautiful building, astonishing to look at and located amongst the most stunning of surroundings it takes your breath away. There are also a small number of cottages for the guests to stay in before and after the wedding located just a very short walk from the hall. For anyone wanting a wedding somewhere really different this is one to check out! We had such a wonderful time photographing this lovely couple on their wedding day and are so grateful that they gave us the opportunity to photograph their special day at this magnificent venue.

Cressbrook Hall is located in Cressbrook, Buxton SK17 8SY. Their website can be found at http://cressbrookhall.co.uk/every-wedding-at-cressbrook-hall-is-as-individual-as-the-bride-and-groom/

Keywords: Cressbrook Hall (23), Derbyshire (79).

1/320; f/4.0; ISO 100; 86.0 mm.