Derbyshire Wedding Photographer
Derbyshire is a wonderful county in which to photograph weddings. There are so many different wonderful wedding venues and such a wide diversity to the landscape that it sometimes seems like several different countries never mind counties all rolled into one! The picture above was taken at the Surprise View overlooking the beautiful Hope Valley in Derbyshire. Following taking these pictures and some more at the nearby Padley Gorge we headed over to the couples wedding reception at Woodthorpe Hall in Holmesfield, Derbyshire later in the day. The couple were married in the J G Graves Woodland Discovery Centre in Sheffield which is very close to the Derbyshire border and their wedding venue and especially wanted to spend some time in Derbyshire for their couple's photography session on the way from the ceremony to the reception. This view of the Hope Valley is spectacular and surely one of best in the country, a wonderful place when the weather is fine and a magnificent place to see this wonderful valley spread out before you. If you like the images from this wedding then we created a wedding album which shows in greater depth this wedding from start to finish!
Derbyshire Wedding Venues
We have only just begun to scratch the surface of photographing at some of the many, many wedding venues in Derbyshire. Ringwood Hall Hotel is probably the closest wedding venue to us that we have photographed at so far. This wonderful wedding venue is in Brimington near Chesterfield and is available for full wedding days including the ceremony, or for wedding receptions following weddings elsewhere. We have photographed several weddings here with this one following a wedding ceremony at Saint Thomas's church in Old Whittington very close by.
Cressbrook Hall near Buxton is another wonderful wedding venue and one we really had a wonderful time photographing at. When I said earlier that the landscape of Derbyshire can vary tremendously then this is one example I would give. Cressbrook Hall is sited high on the side of a valley and the surrounding scenery is more reminiscent of Austria than something only 20 miles from home, it is simply stunning!
The Peak Edge Hotel situated between Chesterfield and Matlock is another fine Derbyshire wedding venue. The grounds and some of the surrounding countryside make an excellent backdrop for wedding day photography. This venue was the setting for one of our all-time favourite Derbyshire weddings on Valentine's Day in 2015.
The couple, their family and friends made us feel so welcome and like part of the wedding party rather than just the hired help, it was one of the loveliest weddings with the warmest of atmospheres we have had the good fortune to be invited to photograph.
The White Hart Inn which is located in Alfreton in another beautiful wedding venue we are keen to return too. At the White Hart couples can make use of the beautiful orangery for the wedding ceremony for up to 70 guests. This wonderful room is light and airy with wonderful views of the grounds. Wedding receptions take place in the Moorwood Suite which is a beautiful and elegant room to be decorated to your taste.
Outside there are beautiful and extensive grounds which are a wonderful place for couples' photographs following a wedding ceremony as well as providing ample space of family formal photographs.
Derbyshire Wedding Photography Locations
There are some wonderful places to photograph a couple on their wedding day. We photographed a couple on Burbage Edge on a slightly unusual wedding day. The groom was from Switzerland where they don't have the same tradition of the bride and groom not seeing each other on their wedding day, so on this occasion we photographed the couple in the morning before their wedding ceremony.
Buxton is another beautiful Derbyshire town and one where we have photographed weddings. The town has some beautiful buildings and being lovers of properly designed and constructed architecture, we just live being surrounded by the amazing buildings.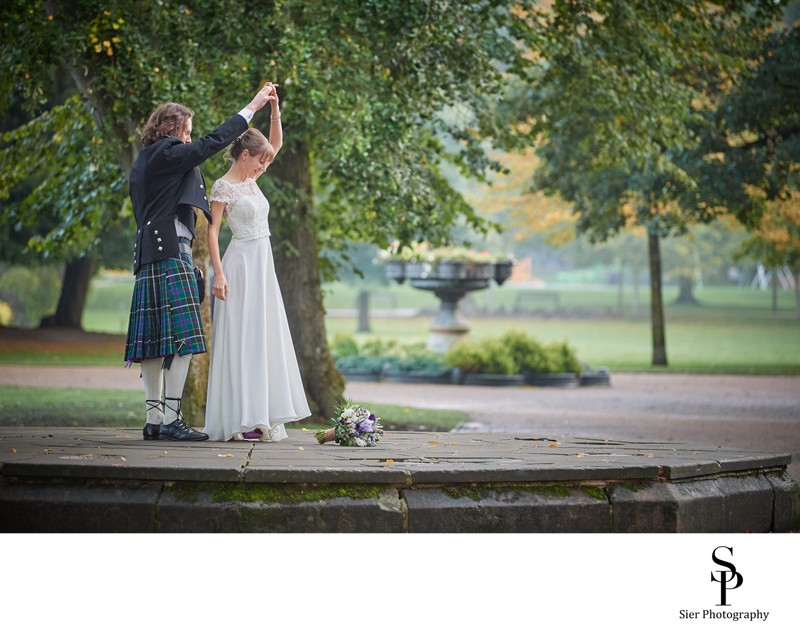 The Pavilion Gardens in Buxton is a wonderful place for wedding day photograph
Derbyshire Wedding Photography
We are lucky to be based so close to the border with Derbyshire from our home in South-West Sheffield, we are only a matter of minutes away from Derbyshire and all that this wonderful county has to offer for couple getting married. We have photographed several weddings in Derbyshire and almost always have several Derbyshire weddings in the pipeline and are always pleased to hear about photographing some more! It is a pleasure to visit some new venues with our couples to capture their special day in this wonderful part of the country.




Keywords: bridal portrait (17), bride and groom together (115), Derbyshire (79).

1/4000; f/3.5; ISO 200; 70.0 mm.