Detail Photography of Engagement Ring & Bridal Bouquet
There are many things we need to photograph during a wedding day, many of which can easily go unnoticed. This photograph of a bride's engagement ring carefully placed inside her bouquet for this close-up macro photograph is just one of the detail photographs we like to gather for a couple on their wedding day. In some ways, the offering and accepting of an engagement ring is the start of the journey of a couple towards their wedding day. The groom shows his love for his bride by buying her the gift of an engagement ring to demonstrate his love and commitment to building a life together. The bride, should she be happy with the idea of spending the rest of her life together with him accepts the ring and the start of this fun and exciting journey begins!
Important Details Photography
As mentioned above, there are many small details to photograph on a wedding day. The items the couple have chosen to be part of their wedding day have all been carefully and thoughtfully chosen to make each wedding day unique and special to the couple. Many of these items are expensive, perhaps have a short lifespan or are consumed, her were might be thinking of natural flowers which biodegrade and the wedding cake which gets eaten! All need to be photographed and documented so the pictures can tell that part of the wedding day.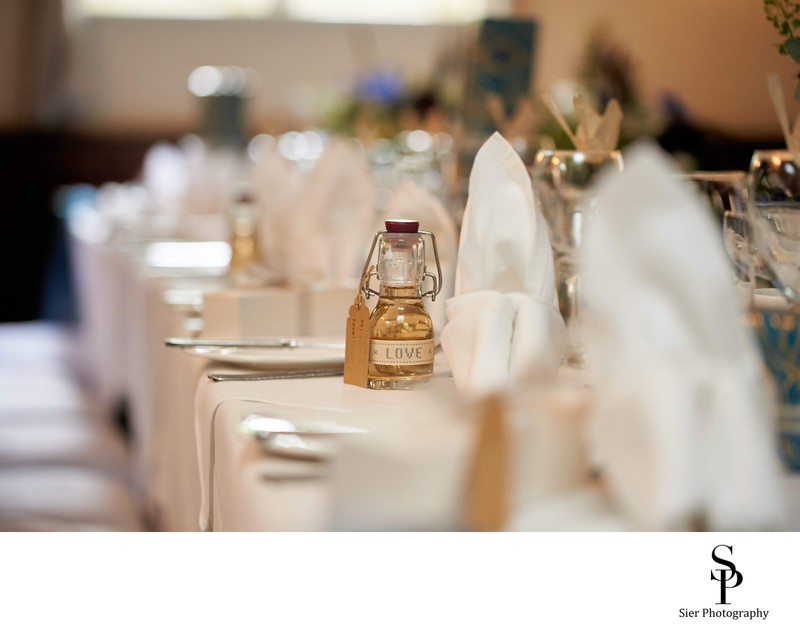 Hand made details by the bride and groom photographed at their wedding

Some couples not only buy items but spend time creating something unique and even more special for their wedding day guests. How many of the wedding guests from this wedding will remember the lovely home mad flavoured gin in these bottles prepared for for them by the bride and groom at this wedding from 2015? The pictures are still here as a reminder and will be for as long as they are wanted by the couple and their decedents, long after the personal memories are lost or have faded into the past.

Keywords: bouquet (7), engagement ring (10), jewellery (5).

1/200; f/11.0; ISO 1000; 90.0 mm.