Emotional Mosborough Hall Wedding
While this might not be one of the finest wedding photographs ever taken it is a wedding day image charged with emotion. It is a picture from a wedding at Mosborough Hall in Sheffield when the father of the bride sees his daughter dressed and ready in her wedding dress for the first time. We British have a terrible habit of not showing our emotions even when there isn't a reason not too. Our bride and her father are from Norway and what a wonderful change to see a father overcome with emotion on his daughters wedding day!
Emotional Wedding Photography
The bride and groom are such a wonderful couple, it was a real pleasure to see a couple so obviously in love with each other. From our first meeting with them on their engagement shoot we could see how much they both meant to each other, and we could also see on their wedding day how much the bride means to her father. The brides's mother wasn't at the wedding, it isn't polite to ask why but it was clear from the speeches she had meant a great deal to her and her father. We only hope wherever she is she is so proud and happy for her wonderful daughter and her fantastic husband, what a lovely couple and such fantastic international clients.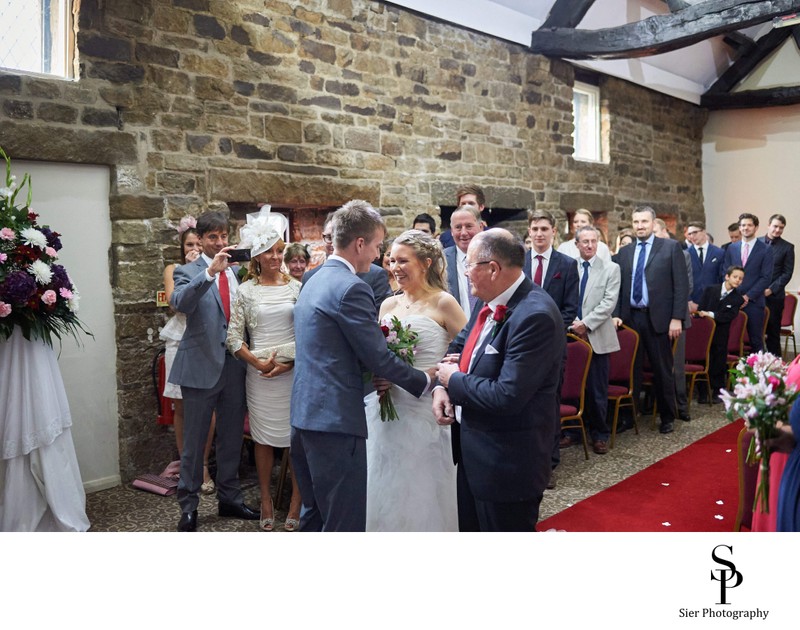 Mosborough Hall Hotel is located at High Street, Mosborough, Sheffield S20 5EA and their website can be found at: https://www.mosboroughhall.co.uk/weddings

Keywords: emotional (8), getting ready (53), Mosborough Hall Hotel (15).

1/160; f/3.2; ISO 1250; 24.0 mm.