Kenwood Hall Hotel Wedding Photography
Kenwood Hall Hotel is a wonderful wedding venue and somewhere we love to photograph weddings in Sheffield. Kenwood Hall is only a mile from the city centre and in many other cities it would be hard to believe. We live in such a green city that there are so many wonderful tree filled places to go and explore well away from the urban hustle and bustle we really are so lucky. This image is from a Kenwood Hall Hotel Wedding and shows our bride and groom photographed across the wonderful lake shortly after their Wedding. at every wedding we undertake at this wonderful place we try to get an image of the happy couple with the lake involved somehow, but images like these with the lake providing main setting are what we and our couples seem to like. On many occasions our couples have really fallen for the grounds here and this has helped sway them from somewhere else.
Kenwood Hall Wedding Photographer
The lake isn't the only wonderful part of this hotel's grounds though as the many trees provide some spectacular colour no matter what time of the year it is. One of my favourite times is autumn when some amazing colours appear and really make a picture stand out, early autumn is probably my favourite time of the year, provided the weather behaves itself!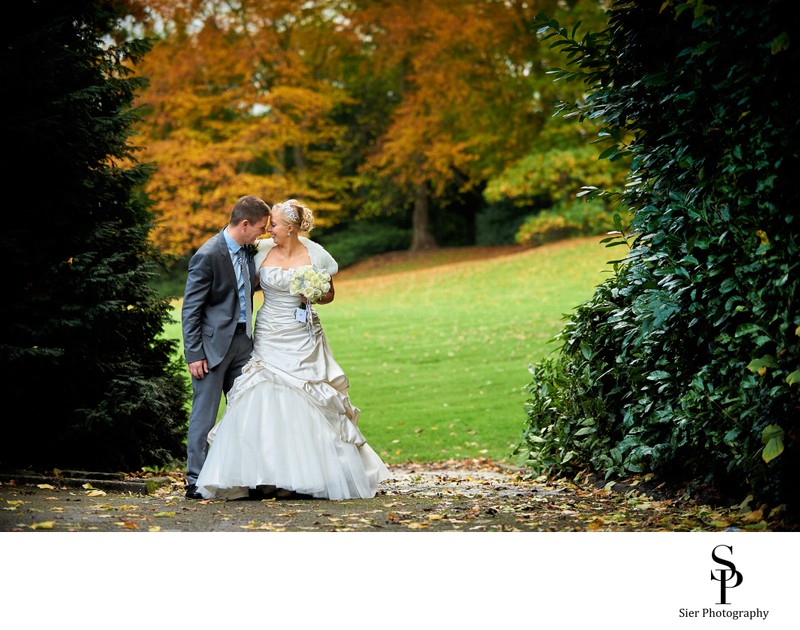 Kenwood Hall autumn wedding colours

The Kenwood Hall Hotel is located in Sheffield, South Yorkshire, UK on Kenwood Road, S7 1NQ. Their Website can be found at https://www.kenwoodhall.co.uk/weddings/

Keywords: bride & groom portrait (74), bride and groom together (113), Kenwood Hall Hotel (154), Sheffield (193).

1/200; f/4.0; ISO 360; 102.0 mm.