Relaxed Sheffield Botanical Gardens Wedding Photography
We have some amazing places in and around Sheffield for wedding day photography. In this picture we see some stunning spring colours bursting into life which provide a beautiful contrast to the brides stunning white wedding dress. This photograph was taken in Sheffield Botanical Gardens one of the most picturesque and well-kept botanical gardens or parks anywhere in the country. The botanical gardens are available for wedding ceremonies which take place in under the central dome of the pavilion, one of the three large glass houses which were restored with the help of lottery funding and reopened in 2003.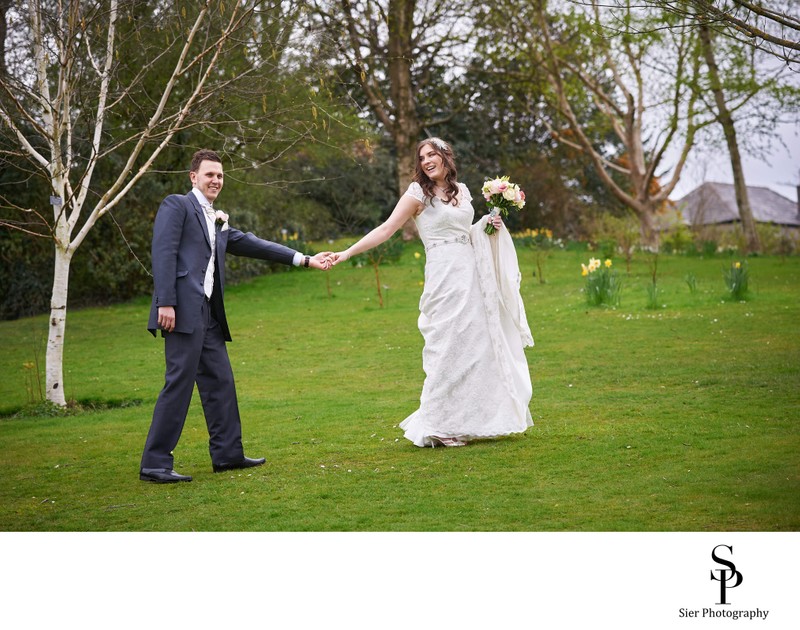 Sheffield Botanical Gardens provide a wonderful backdrop to wedding day photographs
The botanical gardens also make a wonderful backdrop for wedding day portraits of a newly married couple perhaps following a wedding ceremony somewhere else (subject to the gardens not already hosting a wedding on that day of course). We both love this place and never tire of exploring the paths and hidden gems of this 19-acre site with our couples whether it is on an engagement shoot, for wedding images or just photographing the wonderful plants and gardens.
Botanical Gardens Wedding Photography
The couple seen in this image had their wedding ceremony at Christchurch in Hackenthorpe on the edge of Sheffield and were on their way to their wedding reception at the excellent Rutland Hotel in Broomhill. In a situation like this Sheffield Botanical Gardens an excellent and convenient place to stop off on the way over to take some photographs of the couple. Travel between all the various venues was by classic Volkswagen camper van on hire from the excellent Vintage VolksWeddings who can supply either the camper van or a VW Beetle depending on your taste or requirement. For transportation of a few bridesmaids the camper van makes a better option!

Keywords: bride and groom together (115), Sheffield Botanical Gardens (62).

1/160; f/4.5; ISO 360; 200.0 mm.