Rother Valley Bride and Groom Wedding Photo
One of the interesting things about being a wedding photographer in the UK is that you can encounter all sorts of interesting weather conditions, sometimes several all in the same day! This wedding day had started out very, very cold with a blanket of snow covering everything. Fortunately by the time we arrived at the wedding venue the snow had all but disappeared and by the time we took this photograph later in the day at Rother Valley Country Park, the snow had all gone but it was still very, very cold!
We always try to have a few minutes alone with the bride and groom following their wedding ceremony. This allows us to take some photographs of the happy couple together on their wedding day as well as it being an excellent opportunity for the couple to be able to relax and spend some time together. We usually try to take some pictures following the wedding ceremony before the couple return to the rest of their guests for the wedding breakfast. At this point they have got one of the major parts of the day (the ceremony) out of the way but still with many things left to do.
Bride and Groom First Dance Photography
Following the wedding breakfast there are the speeches, the cake cutting and the first dance still to do. We have seen all sorts of first dances from the very nervous couples to the fully choreographed routines copied from something seen on the television or the internet. It doesn't really matter what the dance is, how well you perform at it, most grooms particularly are very nervous and apprehensive, but they always turn out OK in the end.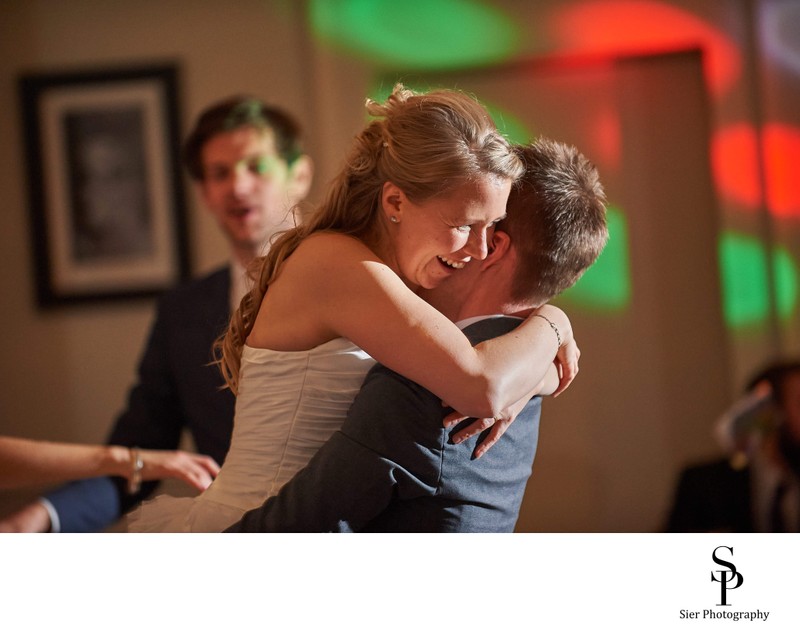 From our point of view, we like to see happy couples at all stages of their wedding day. From my personal perspective, I never really know how the first dance has gone, I'm 100% concentrating on getting as many pictures of the couple as I can during this important part of the couples day to provide as much choice the happy couple after the event, I usually even don't know what the music was I'm so engrossed in photographing things!

Keywords: bride & groom portrait (74), bride and groom together (115), Rother Valley Country Park (5).

1/160; f/2.8; ISO 560; 125.0 mm.