Wedding Photo Kenwood Hall Sheffield
This photograph was captured straight after the wedding of this couple at the Kenwood Hall Hotel in Sheffield. This couple were married in the old part of the hotel in the drawing room. This is a wonderful room for weddings in this wonderful building. the wedding was in early November when the grounds are spectacular with vibrant oranges and yellows of the fall colours, one of my favourite times of the year.
Kenwood Hall Hotel Wedding
The grounds at Kenwood Hall are equally as magnificent as the interior of the house. Set in 12 acres of unspoiled grounds there is room for many guests to wander around and enjoy this wonderful urban oasis not more than a mile for the centre of the city.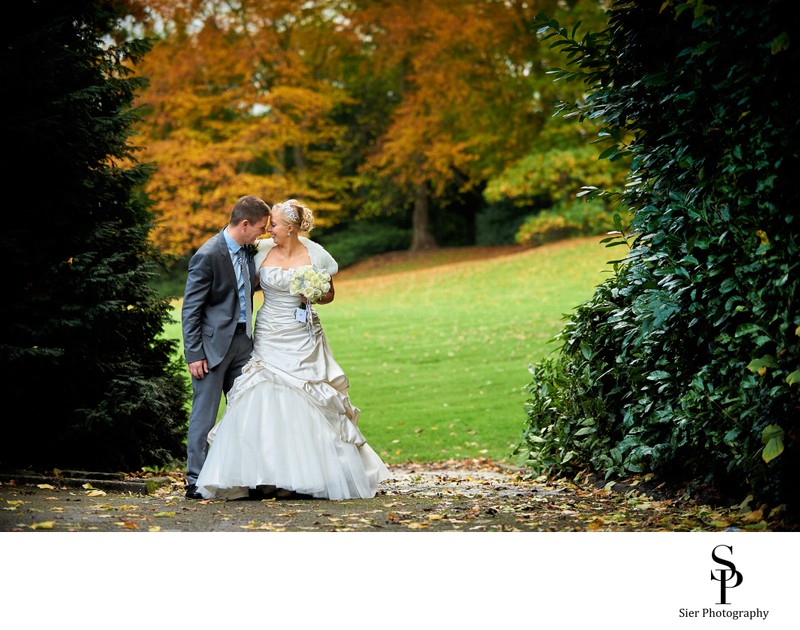 The wonderful lake at the far end of the grounds provides a wonderful backdrop for wedding images and is just one wonderful place to look at and to be in. There are many other lovely tucked away places to see and every time we visit we find somewhere else to go to. We never turn up at a wedding with an idea of what pictures we might get, there are the obvious ones we need to capture such as the family formals, group shot, first dance, cake etc but as for the rest we simply like your day to unfold and then for us to document it for you.

Kenwood Hall Hotel is located on Kenwood Road, Sheffield S7 1NQ. Their Website can be found at https://www.kenwoodhall.co.uk/weddings/

Keywords: bride and groom together (115), Kenwood Hall Hotel (153), married (9).

1/125; f/2.8; ISO 640; 70.0 mm.