Wedding Photographer Ringwood Hall
This is a wedding day photograph from a wedding reception at Ringwood Hall in Chesterfield, Derbyshire. We have photographed a number of weddings at Ringwood Hall and love to work here. The Hall is a stunning building and the grounds are extensive and beautifully presented. This photograph is of our happy couple in the gazebo in the grounds of the hall. It is possible to get married in or around this feature as well as inside the house.
Chesterfield Wedding Photography
Our couple pictured here were married at St. Bartholomew's Church in Old Whittington, Chesterfield, Derbyshire and used Ringwood Hall for their wedding reception. It had been the dampest start to a day it was possible to imagine but as the day wore on the sun came out and it turned to the most magnificent sunny, summer day as is evident form the wonderful blue sky.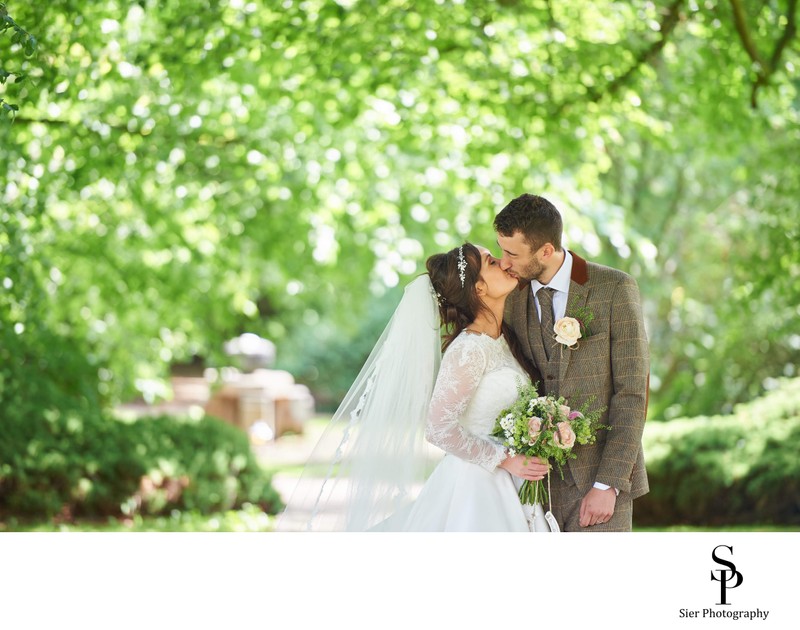 Ringwood Hall wedding portraits of bride and groom

Its really is wonderful to have a warm and sunny wedding day, it doesn't always happen and we have worked in all sorts of weathers, but carry on we must to get you your wedding day images. We always bring studio lighting with us just in case it is too wet or cold to venture outside, we will find somewhere indoors to take your pictures if we are absolutely forced too but there is usually some point during the day we can slip outside and grab some pictures. If you like the images from this Ringwood Hall Hotel wedding then we created a wedding album which covers the day from start to finish!

The Ringwood Hall Hotel is located in Brimington, Chesterfield, Derbyshire, on Ringwood Road, S43 1DQ. Their website can be found https://ringwoodhallhotel.com/

Keywords: bride & groom portrait (74), bride and groom together (115), Derbyshire (79), Ringwood Hall Hotel (18).

1/640; f/3.2; ISO 100; 26.0 mm.