Wedding Photographer Sheffield
Sheffield is a wonderful city in which to get married, a fantastic place to live as well as being a thrilling place to be a wedding photographer. There are many reasons for all of these and not just because it is our hometown and simply the best city in the world! There is a massive selection of wonderful wedding venues from which to choose, venues that cater to all tastes, budgets, and beliefs. From the two beautiful cathedrals in the centre of Sheffield to some wonderful parish churches, luxury hotels, and the industrial quarter with its historic industrial architecture harking back to the heyday of steel and cutlery manufacture in the city. There are rural wedding venues which include country houses and spectacular woodland retreats, there is something for everyone.
Each wedding venue offers something different to the couple as well as something different in terms of photo opportunities. It is well worth considering what style of wedding photographs you are looking for and what features of the surroundings you want to incorporate into the pictures when choosing both your wedding venue and your wedding photographer.
The city and the surrounding area which spreads out into the Peak District National Park to the south west, has some lovely places to visit, to be married in, and in which to photographed. Within a few mile of the centre of Sheffield there are some magnificent country churches through to stunning hotels as well as some astounding beautiful country houses and mansions.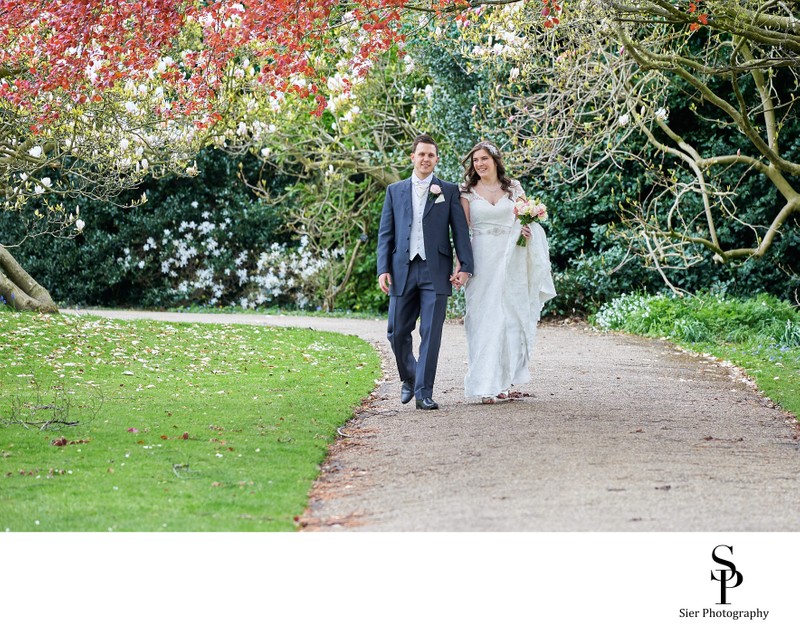 Sheffield Botanical Gardens are a wonderful location for some relaxing wedding day photographs
There are some beautiful parks in which to undertake wedding day photography. The image above was taken in the fabulous Sheffield Botanical Gardens less than a mile for the city centre. It is one of a host of wonderful places licenced to host wedding ceremonies. It is also a great place for portraits of a bride and groom if you have held you wedding ceremony elsewhere in the city. The picture was taken near to the top of bear pit and is one of the best places in the gardens for capturing an image of the happy couple. I love the stunning wedding dress this bride was wearing and the sharp contrast it produces against the dark green of the foliage and the fence around the rim of the bear pit.
Choosing Your Sheffield Wedding Photographer
Choosing your wedding photographer is a matter of taste on many levels. Firstly, you need to like the style and quality of the pictures they produce. Secondly you need to understand how much you want your photographer to interact with you and your wedding guests during the picture taking process. Do you want someone to simply remain detached and to photograph the events during your day or do you need someone to help guide you during the process, to tell you how and where to stand? Probably most importantly you need to get along with your photographer as you will be spending a lot of your day with them.

Keywords: bride & groom portrait (74), bride and groom together (115), Kenwood Hall Hotel (153), Sheffield (192).

1/250; f/3.5; ISO 450; 200.0 mm.