Wedding Photography Sheffield
There are some amazing places in Sheffield to take wedding photographs. Many couples choose a particular wedding venue because of the wonderful surroundings in which to get married, or to hold their wedding reception. There are also some wonderful parks in the city where couples choose to slip away from their guests for a few minutes to have some quiet photographs taken together free from all the happy distractions of their guests.
The image above was taken at the fabulous Sheffield Botanical Gardens which is one of a number of these fantastic Sheffield parks. It is one of the many places in which to get married in Sheffield as well as being an amazing place for some portraits of a bride and groom following their wedding ceremony elsewhere.
This photograph was taken near to the top of bear pit and is one of my favourite places in the gardens for capturing an image of the happy couple. I love the stunning wedding dress this bride was wearing and the sharp contrast it produces against the dark green of the foliage and the fence around the rim of the bear pit shown in this photograph.
Beyond the city, the surrounding area spreads out into the Peak District and beyond which has some stunning places to visit, and to be photograph in. Sheffield and the surrounding region has wedding venues to suit all tastes, budgets, sizes and styles of wedding from magnificent country churches through to stunning hotels as well as some astounding outdoor and rural wedding locations.
Wedding Photography in Sheffield
There are many things which need photographing at a wedding, some large, some small but they all form part of the wedding day and we do our best to capture and record as much of the day as we can. The image below was a portrait of the same bride captured in her parents' house just before leaving for the church, one of my favourite bridal portraits.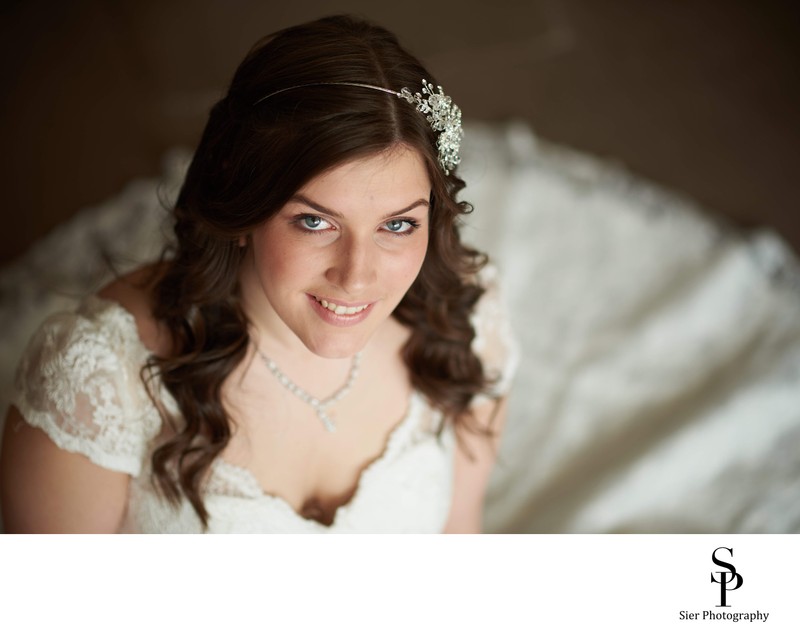 This was a wonderful wedding with a wonderful couple with the wedding ceremony taking place at Christchurch, Hackenthorpe Sheffield with a series of photographs of the bride and groom immediately afterwards in the Botanical Gardens and finally the wedding reception at the Rutland Hotel in Broomhill Sheffield... Transport from the brides parents' house to the church and between the church and the reception venue was by vintage Volkswagen camper van on hire from Vintage VolksWeddings in Sheffield. This was a beautiful vehicle in immaculate condition and beautifully prepared for the wedding day. The bride's father a massive fan of these vehicles didn't know he would be taking his daughter to the church in one, he was a very happy man indeed! A lovely day out with a lovely couple and their family and friends.

Keywords: bride & groom portrait (74), bride and groom together (115), Sheffield (192), Sheffield Botanical Gardens (62).

1/160; f/3.2; ISO 320; 160.0 mm.