Wedding Photographer Sheffield
Sheffield is such a fantastic place to be a wedding photographer and is one of the best places in the country, if not the world to live, though we are slightly biased! Sheffield has some of the most wonderful wedding venues imaginable, many of them within not too many miles of our south-west Sheffield home. The image above was captured during a wedding at the wonderful Kenwood Hall Hotel, one of Sheffield's premier wedding venues. This is a wonderful location for wedding photography and one we always look forward to working at.
Not all the wedding venues we love to photograph at are in Sheffield. From our location close to the centre of the country, many of the most wonderful wedding venues are less than an hour's drive away. There are some wonderful towns and cities in and around the Yorkshire, Derbyshire, and Nottinghamshire region, as well as much further away too as well as many lovely country houses and parks. As much as we enjoy photographing weddings at some of the familiar locations we have worked at in the past, we are always more than happy to try our hand somewhere new.
Sheffield Wedding Photography
Sheffield has many wonderful wedding venues including the superb Kenwood Hall Hotel. We have photographed many weddings here over the years and are always overjoyed to return here for another. The image above was taken in the grounds of Kenwood Hall by the side of the lake, a location we will always try to incorporate into our wedding photography, no matter what the weather, as long as we are given the chance! The full wedding album produced from images from this wedding day gives an idea of the type of photographs we would typically put into a wedding album for you but only represents around a tenth of the photographs we would typically deliver from photographing a wedding day.
We will always try to spend a little time with our new bride and groom away from their wedding guests at some stage during their wedding day. We use this time to create some wedding day portraits for our couple. This time also allows them some time to relax together before returning to their family and friends to resume the wedding day celebrations.
Botanical Gardens Sheffield Wedding Day Photograph
The image above shows another happy couple photographed in one of Sheffield's most scenic parks, the Sheffield Botanical Gardens. We stopped-off between their church ceremony and their wedding reception to photograph the couple in these wonderful surroundings. Being away from their guests allows the couple a few minutes of peace together and for us to photograph them without interruption. We quite understand family and friends wish to congratulate the happy couple and spend time with them on their wedding day so this separation gives the couple some space to relax and enjoy the idea of being a married couple for the first time and gives us some space to work at our best and be our most creative.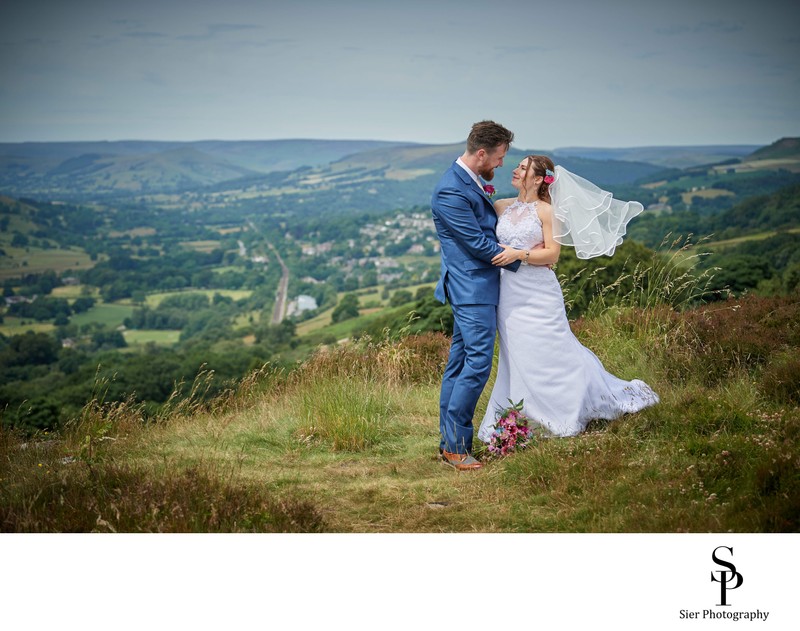 Wedding Day Photograph at The Surprise View - a view over the Hope Valley in Derbyshire
Pictured above is another example of a quiet moment together for a couple following their wedding ceremony. Our couple chose to spend some quiet time together away from their guests allowing us to take some wedding day portraits of the happy couple. This took place firstly in the Ecclesall Woods close to the JG Graves Woodland Discovery Centre in Ecclesall Woods where their wedding ceremony had taken place, then just over the border from Sheffield in Derbyshire at the Surprise View and Padley Gorge before arriving at their wedding reception at Woodthorpe Hall in Holmesfield, Derbyshire.
Capturing these special moments for our couples is one of the highlights of the day for us as wedding photographers. There are many things we need to photograph during a wedding day but the creation of some special images for our newly married couples is definitely one of the best parts of the working day for us. These images will be a reminder to our couples, their families and friends for years to come, of the special bond between them cemented as they made their wedding vows.
Kenwood Hall Hotel
Kenwood Road, Sheffield, S7 1NQ

Telephone: 0114 258 3811

Events Team email: events@kenwoodhall.co.uk

Their main website can be found at: https://www.kenwoodhall.co.uk

Their dedicated weddings page is at: https://www.kenwoodhall.co.uk/wedding

Keywords: bride & groom portrait (204), bride and groom together (312), Kenwood Hall Hotel (459), Sheffield (573).

1/250; f/3.5; ISO 450; 200.0 mm.